What are the differences between a plunge pool and a lap pool? 
Tiny living is becoming more popular these days in Australia. A lot of modern tiny houses are being built each day and more and more families are now interested in having private swimming pools at their place.
Read: Plunge Pools – The Popular Pool Option for Australian Families
Since the traditional concrete swimming pools are bigger and require larger space for construction, many homeowners opt for smaller ones like plunge pools and lap pools. These small swimming pools are very attractive and space-saving, an ideal choice for those people starting a tiny living lifestyle.
Because of the size and design, the cost of a lap pool or a plunge pool is significantly lower than the regular swimming pool. Both are compact and affordable to maintain. So, if you are living in a tiny house, these swimming pools are the perfect choices to match your home.
The Differences of a Lap Pool and a Plunge Pool
Both pools – lap pools and plunge pools – do not take most of your garden or backyard space. But, which do you think is better? Find out here.
Plunge Pool and Its Benefits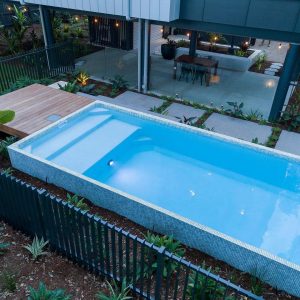 A plunge pool is known for its compact size which makes it perfect for people who enjoy sitting or relaxing in the water. Because of its small size, a plunge pool can fit into a small garden or backyard. It can be installed in-ground and above ground or you can opt to have it indoors. 
Plunge pools come with various uses and benefits. Here are some of the things you can do or enjoy with a plunge pool:
You can use your plunge pool for therapeutic recreation. You can choose between a warm or cold plunge pool which has health benefits.

Depending on your pool contractor, the maintenance for a plunge pool should not cost a fortune.

You can put a plunge pool indoors or outdoors as long as you have enough space. It can fit to a smaller property as long as the lot meets the requirements.

You can save more with your electricity because pool filters and other equipment are used occasionally.

There are many available designs and features for plunge pools. You can easily customise them as well.

Lap Pool and Its Advantages
Lap Pools are well-known in Greece and Rome. These pools are usually for aquatic games, hydrotherapy and exercise. They offer both luxury and convenience. 
Lap pools are pretty narrow and long. They are typically rectangular in shape and designed for swimming laps.
Comes with numerous advantages, lap pools are good for:
Occupying little space.

Lap pools are small and narrow which can fit a small backyard.

Privacy.

You can transform your lap pool into a private pool so you can save a trip to a local leisure centre.

Maintenance.

Lap pools need less maintenance compared to traditional concrete pools. Although it also needs regular maintenance, the cost, materials and the equipment being used for maintenance is lower than other swimming pools.

Adding value to your home.

Lap pool adds an aesthetic appeal and value to your home.
Looking for a Trusted Pool Builder in Port Macquarie
A lap pool differs from a plunge pool in terms of size, shape and purpose.
So, if you are looking for more resources or design inspirations for your swimming pool, we've got you covered. 
East Coast Pools and Outdoor Living is a design-build pool contractor in the north-east of New South Wales. We are an authorised dealer of Plungie® pools in Port Macquarie, Newcastle, Coffs Harbour, Forster and surrounding areas. Contact us today to learn more about our products and services.